Deluxe Bonder "X" Model
The features of the DB Bonders, with the addition of a changeable die set design. (The added "X" in our part numbers indicates models with die change compatibility) If die changes are not needed and your size requirements fit our standard die sizes we recommend our standard DB Bonders for significant price savings.
The Model DBX500A (Analog) Heater Control Module contains an adjustable analog temperature controller with a temperature control range of 0 to 392° F (200° C)
The Model DBX500D (Digital) Heater Control Module contains a digital display temperature controller with UP and DOWN Arrow keys to more accurately set process temperature values up to 400° F (204° C)
Suitable for NBR (Buna-N), EPDM, CR (Neoprene), VMQ (Silicone), FKM (Viton®) and Sponge Rubber (Open or Closed Cell) Cord Stock Materials
Adjustable toggle clamps maintain proper control and squeeze of O-Ring or Custom Shape cross sections.
Toggle clamps lift the upper dies to allow for easy removal of the O-Ring after bonding. The unit is instantly ready to bond another O-Ring without the need for additional unit cooling time.
Die size: 1 in. wide x 3.5 in. long (3-pc aluminum inserts)
Voltage: 115VAC, 60 Hz., 500 Watts.
Foot Print of metal cabinet: 6 in. x 10
(5) Changeable Die Set Options are available; including Standard Inches, Standard Metric, Custom and Blank Die Sets (Ordered separately, please see below)
All DBX Die Sets are supplied with proper mounting holes, screws and allen wrench for quick and easy die changes.
Die Set Zones: A, B & C
in order to maintain an appropriate .125 wall thickness between die edges and die mounting holes all DBX Die Sets are separated into (3) Zones. (A, B & C).
The orange bands in the illustration on the right represent the .125 minimum wall. The gray shaded area is clearance for the die mounting screws. The area shown in white is available real estate for the die hole cavities.
The recommended minimum wall thickness of .125 should be maintained between the actual die hole caviities as well. RSF maintains these appropriate minimum wall thicknesses in the standard die sets shown below. RSF also recommends that customers maintain these wall thicknesses when making there own custom hole cavity die sets.
3-Tiered/Stepped Design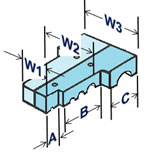 All DBX Die Sets have a 3-tiered/stepped design in order to allow for even smaller O-Ring I.D. Sizes in Zones A & B
Minimum Bonded O-Ring I.D. Sizes:
STEP AREA "A" is 1.00″ (25.4 mm) wide (W1).
Accommodates 4.0″ (101.6 mm) minimum I.D. rings.
STEP AREA "B" is 1.50″ (38.1mm) wide (W2).
Accommodates 5.0″ (127 mm) minimum I.D. rings.
STEP AREA "C" is 2.00″ (50.8 mm) wide (W3).
Accommodates 6.0″ (152.4 mm) minimum I.D. rings.
FOR CUSTOM SHAPED CROSS SECTIONS WE RECOMMEND OUR MODEL PBX BONDERS FOR HANDS-FREE CONTROL OF CORD STOCK